The scheppach
Group
The scheppach Group of Companies now generates over 340 million euro and is one of the leading companies in the industry. We want to continue to strengthen and expand this rapid course of growth and our market position even further. For this reason, we invest constantly in expanding our product range and optimising our processes.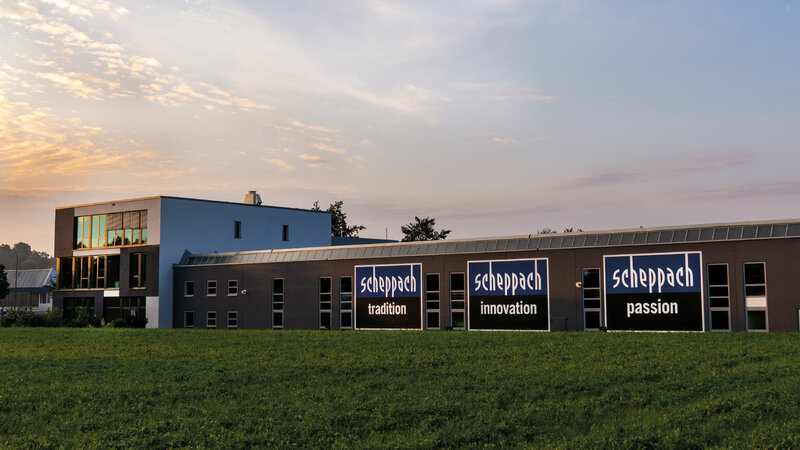 396
million
Revenue in fiscal year 21 / 22
in euro
Products introduced per year
We are award-winning
And proud of it
Tradition, innovation, passion: three concepts that effectively describe what we stand for today. The General Managers of the scheppach Group, Stephan W. Müller (1st from the left) and Ernst Pfaff (2nd from the left), accepted the Bavarian Lion with pride. The Bavarian State Minister of Commerce presented this award at a celebration at Schleissheim Palace, and declared the Scheppach Group to be one of the TOP 50 Companies in Bavaria in 2018.
During the coronavirus pandemic, too, Scheppach stood out with growth and future viability, for which it received the distinction: Bavaria's Best 50. On 4th October 2021, Managing Director Stephan W. Müller accepted the award full of pride and excitement from Roland Weigert, Secretary of State, at Munich Residence.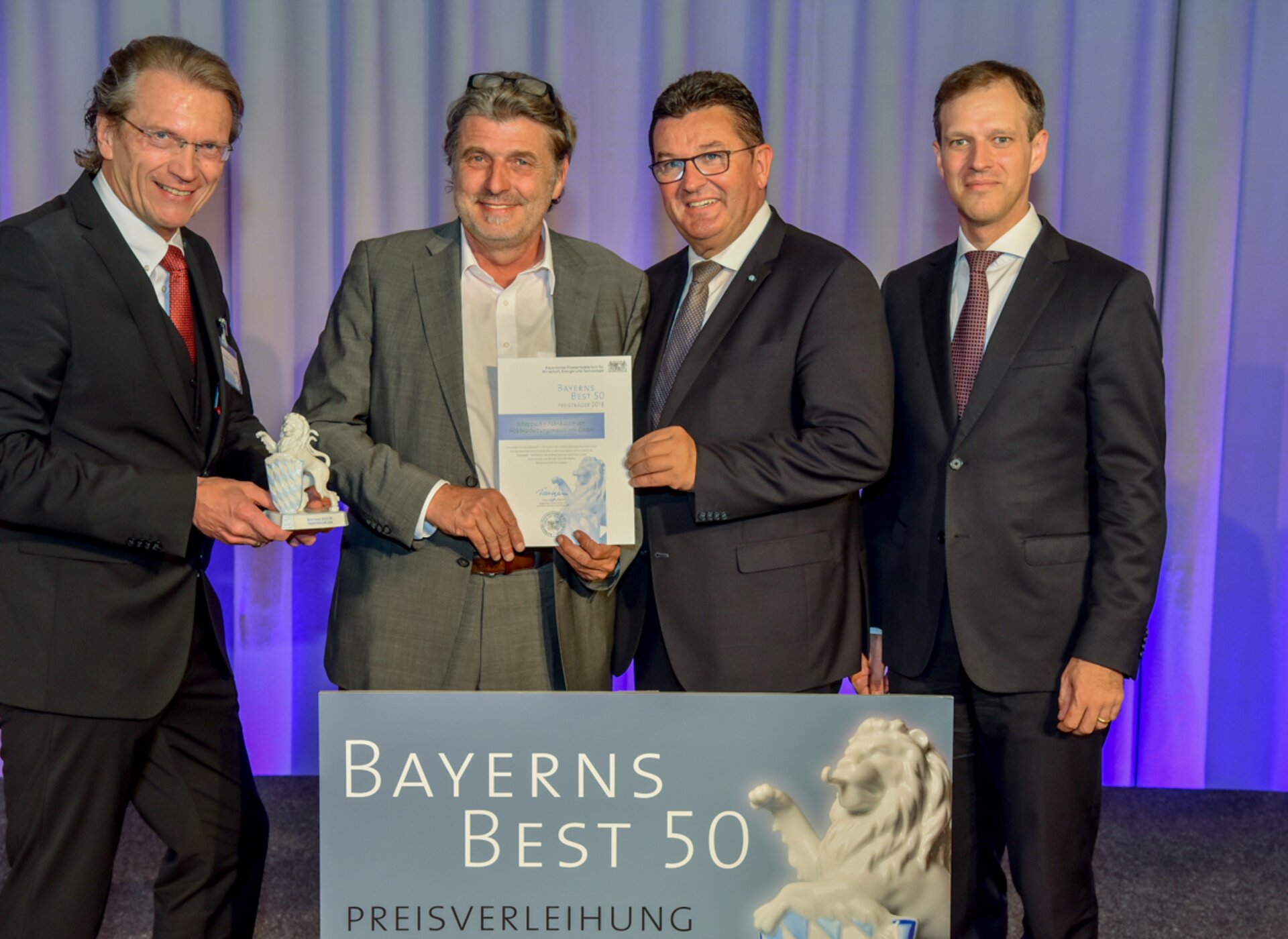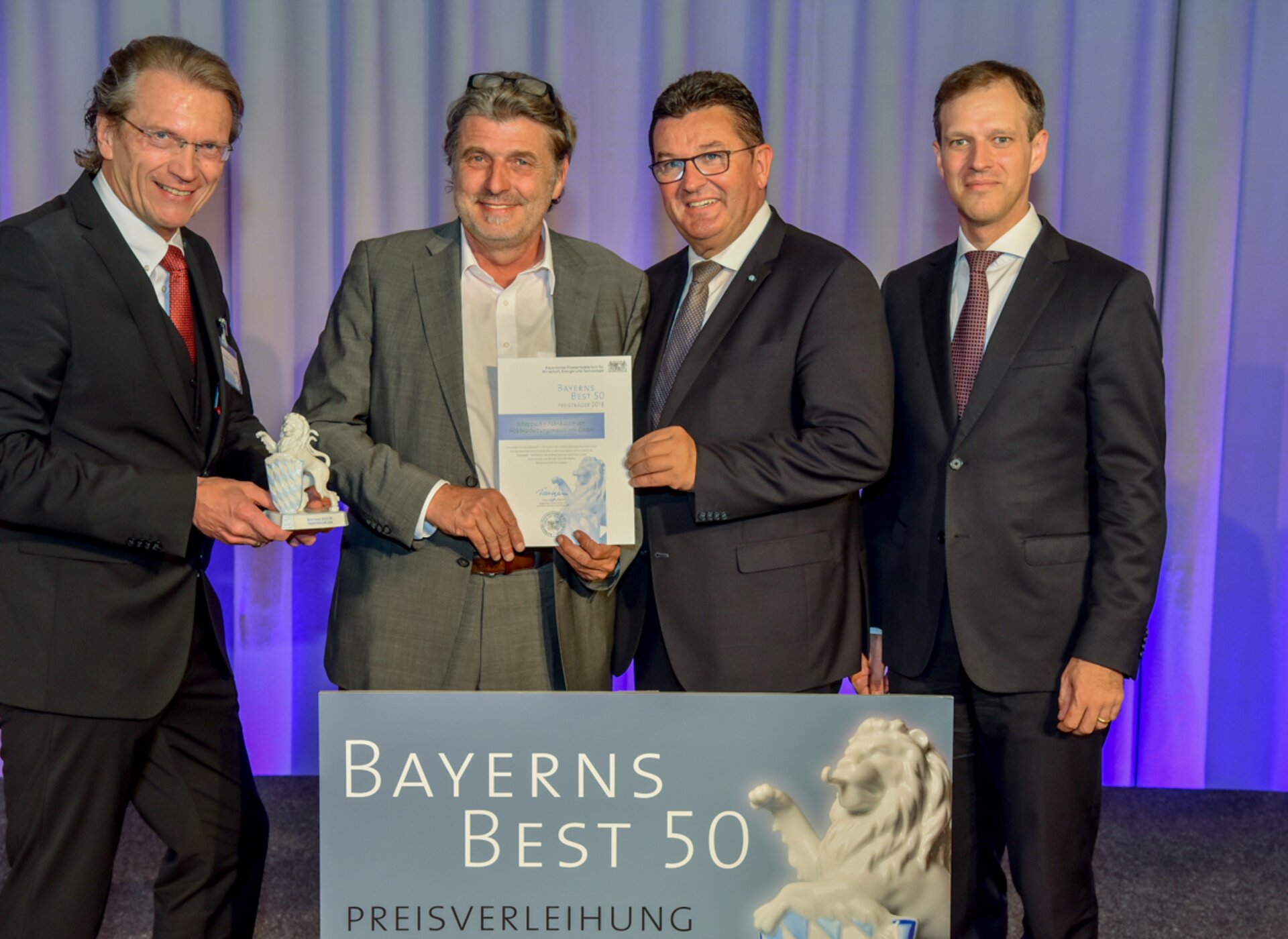 AWARD
SCHEPPACH IS ONE OF THE BEST EMPLOYERS IN GERMANY
2022, Scheppach GmbH is among those receiving the coveted Top Job Award. This makes scheppach one of the best employers in Germany. Scheppach stood out with particularly favourable employee feedback in the areas of family-friendliness and demography. The Top Job Seal 2022 was awarded by former Vice Chancellor Sigmar Gabriel as the patron of the prestigious prize.
Scheppach attaches particular value to a long-term relationship with its employees. "We have our committed and motivated employees to thank for the company's success. They do amazing work and managed to cope exceptionally well with the challenges of the pandemic," Managing Director Stephan W. Müller says, full of praise.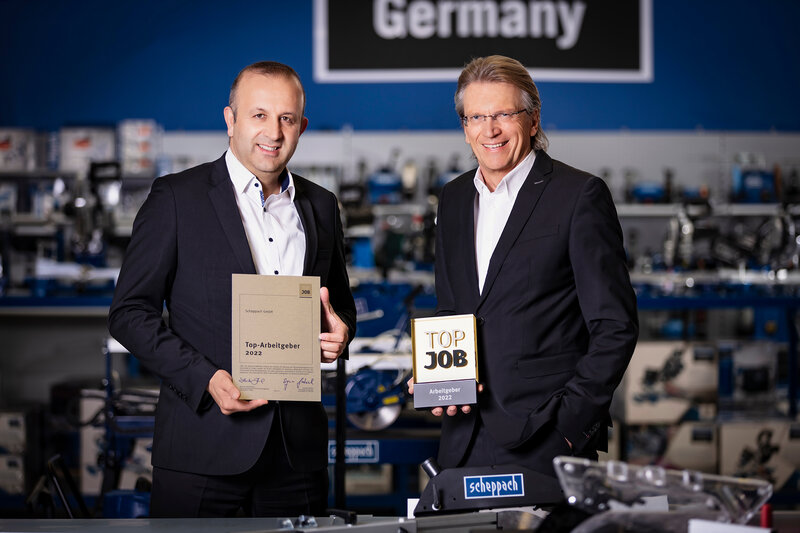 OUR
PHILOSOPHY
GOOD
WORKING
GOOD WORKING: Our philosophy
Our slogan, "GOOD WORKING", stands for good products with modern components and practical functions, as well as excellent service and effective cooperation with a skilled team.
But what does this mean in particular for you as a partner, customer, user, or for our processes?
GOOD WORKING Partner philosophy
For our partners, Good Working means:
scheppach is a solutions partner for our trading partners worldwide
A sophisticated selection of products and individual product configurations
Technical knowledge of the market and international supplier relationships
Market and competitive calculations and price concepts
High warehouse volume and reliable availability
Customer-oriented processes in order processing and logistics
Effective marketing with attractive designs
Individual concepts for promoting sales
Comprehensive services for partners and their customers​
GOOD WORKING Process philosophy
For our processes, Good Working means:
Completely meeting the requirements and expectations of our customers for products and services
Selecting suppliers by involving them in processes and fair cooperation in the interest of our customers
Enhancing and promoting the skills of our employees through constant advanced training so that mutually defined goals are able to be achieved independently
Creating the basis for motivated and capable employees through recognition, fairness, and trust
Developing innovative products and product improvements, and simultaneously offering our customers attractive conditions
Permanent optimisation, standardisation, and automation of all processes along the added-value chain
GOOD WORKING User philosophy
In relation to our end customers, Good Working means:
Satisfied customers thanks to ideal work results with our machines and devices
Over 90 years of experience and a comprehensive spare parts warehouse
Skilled service specialists in our offices and repair centre
Long-term customer relationships thanks to high customer satisfaction and expert advice
Our locations
Germany, France, Australia
Our company headquarters are located in Ichenhausen, in the economically and attractive district of Günzburg, and located conveniently near Autobahn 8. This is the home of the scheppach parent company and our subsidiary Woodster GmbH, which was founded in 2005, on grounds that cover over 40,000 m².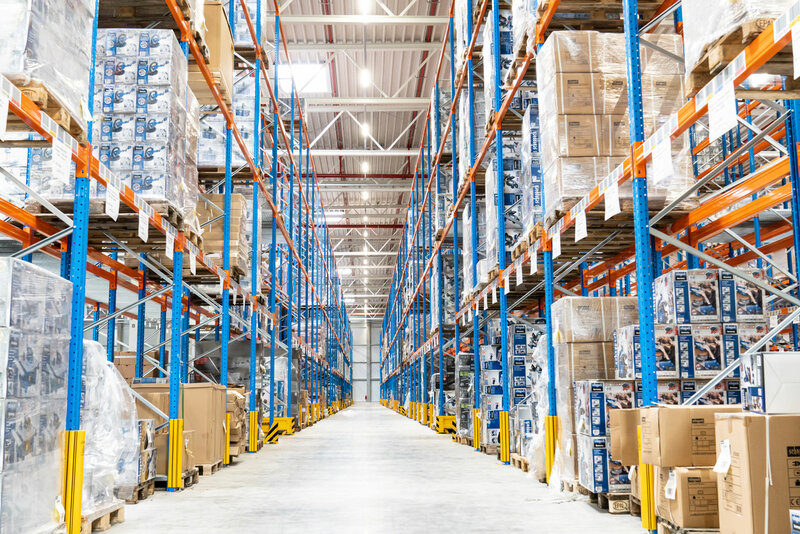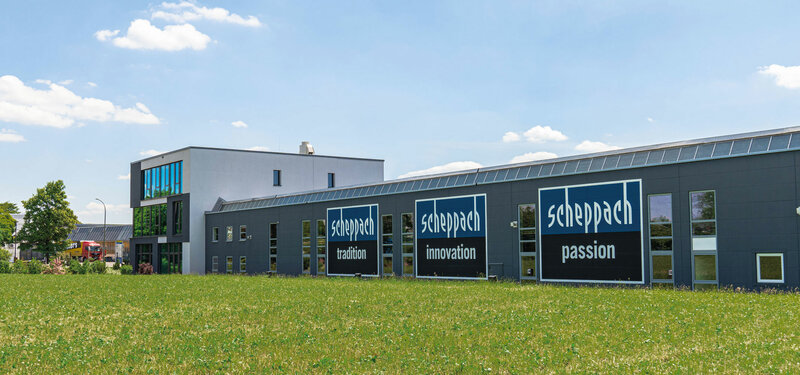 The location in Ichenhausen is constantly being expanded and modernised to create the ideal conditions for our employees. In April, 2017 the new management building was occupied, which offers nearly 1,000 m² of modern and ergonomically designed workstations.
The latest expansion is our warehouse in Günzburg. A warehouse area of 21,000 m² makes it possible for us to process incoming and outgoing goods as quickly as possible.
Additional branches of the Group are located in France. This is the home of scheppach France SARL, with branches in Toulouse and Strasbourg. For the important French market, we currently have 25 employees in the areas of sales, administration, logistics, and service development.
scheppach Australia Pty. Ltd., located in Sydney, was founded in October 2015. The new company is currently being formed and is intended to drive business development in Australia.
We're continuously developing
At scheppach, we know that only constant improvement and further development can make a company successful in the long term. Since our founding in 1927, our focus has been on innovation, functionality, and operability.
More than 400 new developments and improvements every year, as well as more than 100 patent protection rights provide testament to our innovative power.
We can thank our entrepreneurial spirit for this, in addition to our highly qualified employees, who are always looking for creative solutions and improvements. At our in-house production facility, highly modern machines and systems ensure cost-efficient and resource-conserving manufacturing processes. Traded goods are constantly configured and optimised by our engineers. The manufacturing processes at our suppliers are subject to strict, intensive quality monitoring.
scheppach means quality
When it comes to the quality and processing of our machines and tools, scheppach doesn't compromise. For this reason, consistent quality assurance belongs to our daily activities. This specifically includes:
Continuous inspection of received production material

Certified processes according to DIN EN ISO 9001:2015

Supplier auditing
Constant monitoring of production processes
Machine testing in our own laboratories or at certified testing institutes
Annual Review 2020/2021
So much has happened since the last Christmas party took place at Scheppach in 2019. We therefore summarised the highlights in a short video so you can be a part of it.
This is how we at Scheppach have experienced and mastered the past two years, evolving all the while. From the new logistics centre in Günzburg to successful certifications, new benefits for our employees, the support of social projects and investments in new hardware to enable as many staff as possible to work from home to new Management and much more. The video shows relevant events and highlights from the past two years.
BAVARIA'S BEST 50
Award
2018 & 2021
INNO
VATI
ON More than
100 innovations and improvements each year
CERTIFI
CATION According to DIN ISO
9001:2015
"MADE IN GERMANY"
Woodworking, firewood machines
TRADI
TION
90-year anniversary, 2017
CREATIVITY
Over 100 patents, utility models, and
registered designs