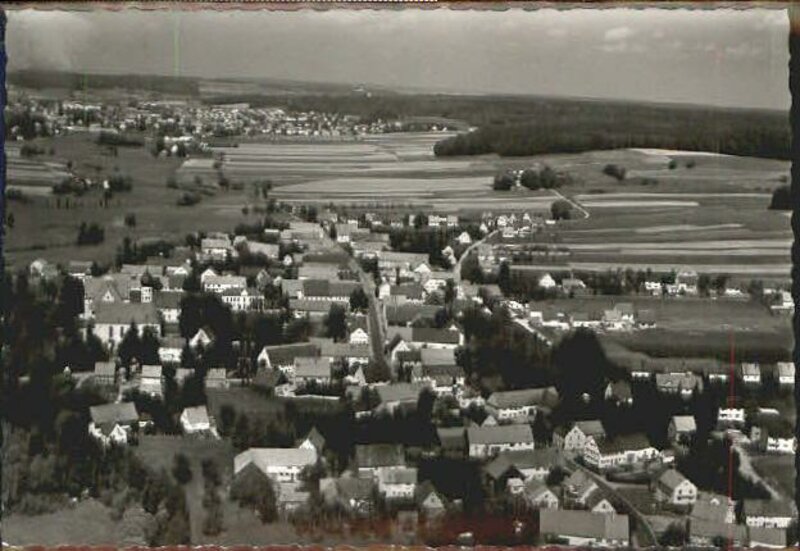 Company founded by Josef Scheppach in Niederraunau for agricultural machines and firewood circular saws.
In the middle of the Weimar Republic and under difficult economic conditions, Josef Scheppach, trained joiner and father of 9 children, began self-employed manufacturing of firewood circular saws, malt mills, and repaired agricultural machines.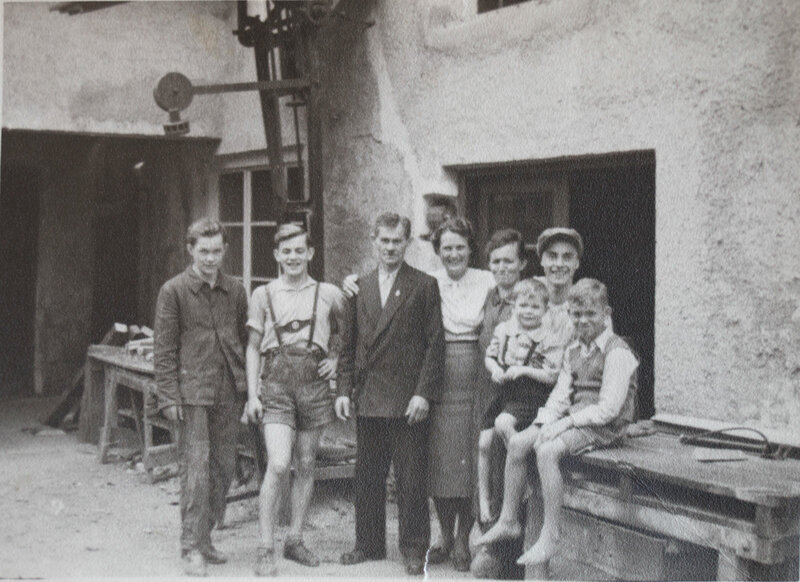 Two of Josef Scheppach's nine children, his sons Fritz and Josef, took over management of the company in 1950.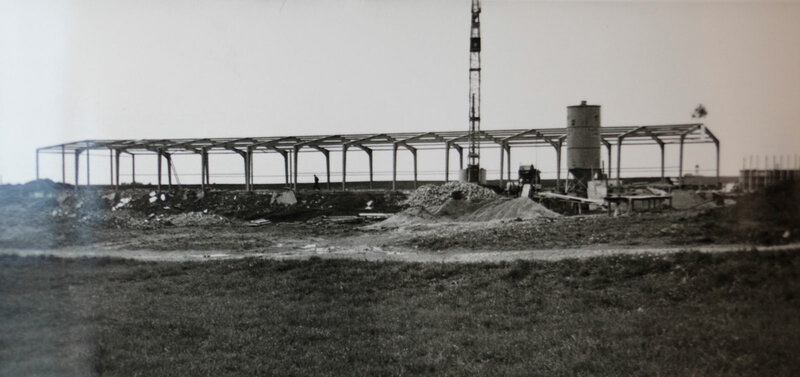 In 1961, scheppach moved from Krumbach to its new location in Ichenhausen. The newly built company building featured a large production hall, the current Plant I, which became the first step in the new growth story.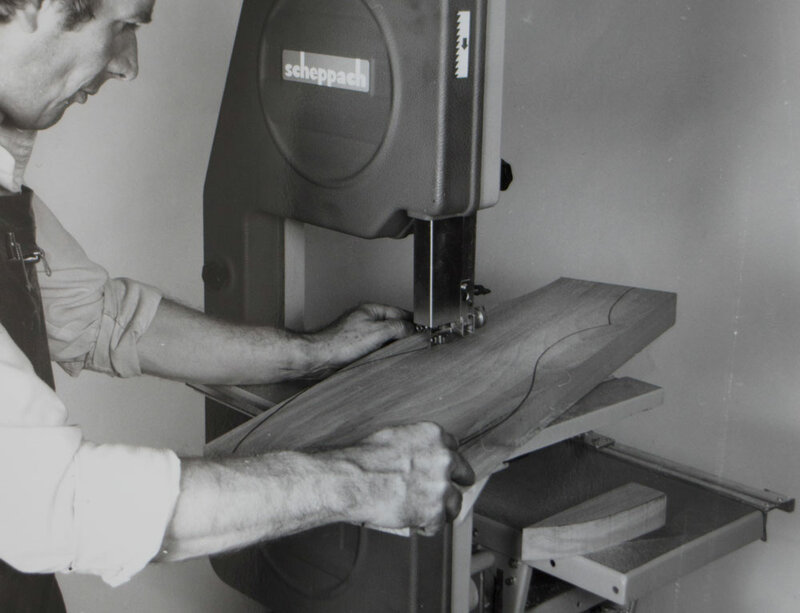 In the mid-70s, scheppach departed from the area of agricultural machinery and focussed on developing and producing woodworking machines. The company developed continuously into a specialist in this segment and continued to expand the range of machines and accessories.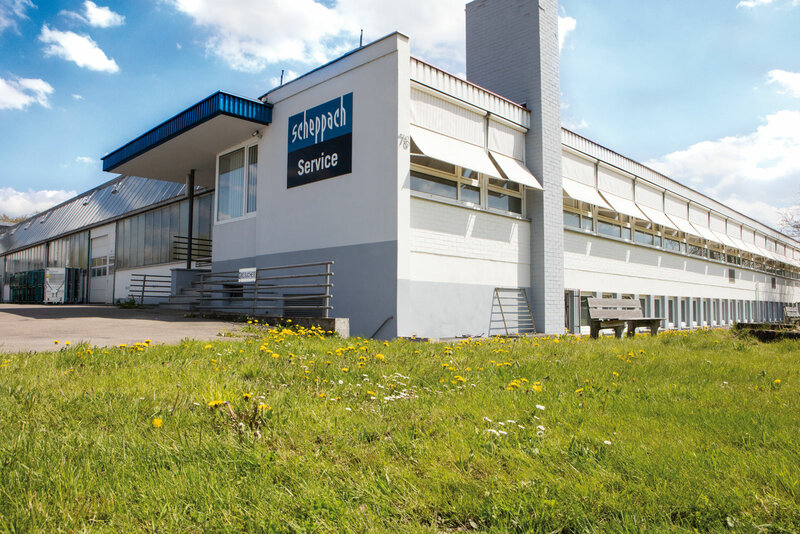 Expansion by commissioning Plant II
Scheppach grows and the location in Ichenhausen is enlarged to suit its growth. Plant II is developed, which now houses the technology, service, and repair departments.
The company is acquired by the current managing shareholder Ernst Pfaff
At the start of the millennium, the current owner, Ernst Pfaff, transformed the company as part of a comprehensive restructuring and reorganisation into a sales and service-oriented, internationally active group of companies.
Success became apparent in the following years: In 2004, when revenue still amounted to 14 million euro, the company grew annually with double-digit expansion rates to reach the current level of 200 million euro.

The French company Kity S.A.S. was acquired. The KITY brand is a traditional brand in woodworking. All operational activities of the company are now integrated with our main office. The brand will continue to adorn product series from scheppach in the future.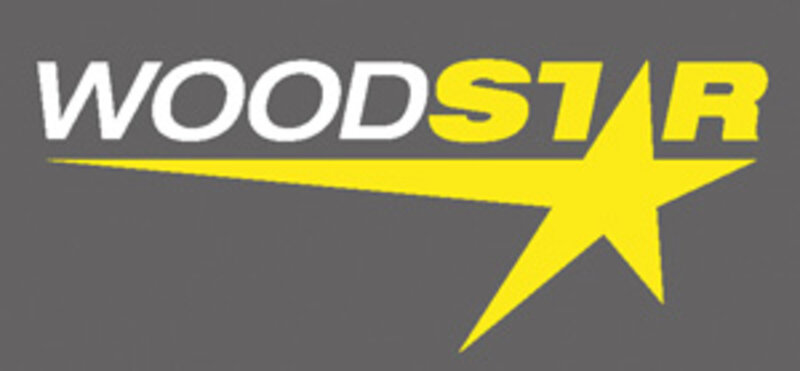 Founding of Woodster GmbH (100% subsidiary) Starting in 2005, a special range was developed under the name of Woodster for sale via DIY shops and discount shops. This development was very successful and made a decisive contribution to the growth of our group of companies.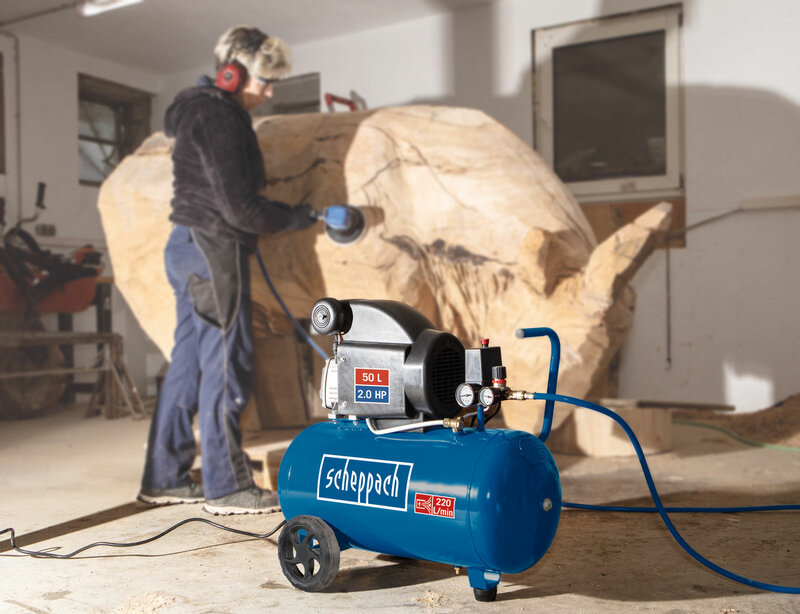 Product range expansion
In 2008, compressors were added to expand the product range. Today, our range includes a wide spectrum of different compressors for various applications, from small mobile compressors and especially silent compressors to dual-cylinder 100 litre compressors.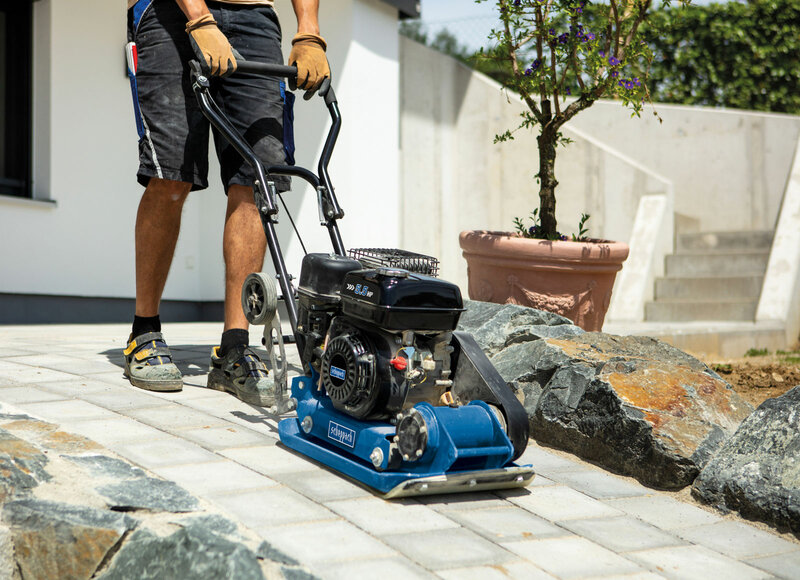 Product range expansion
Expansion of the product range with construction machines, heavy equipment for handymen and tradesmen. With plate vibrators, concrete mixers, hand-held agitators, dumpers, and demolition equipment, scheppach also provides equipment for larger projects at home.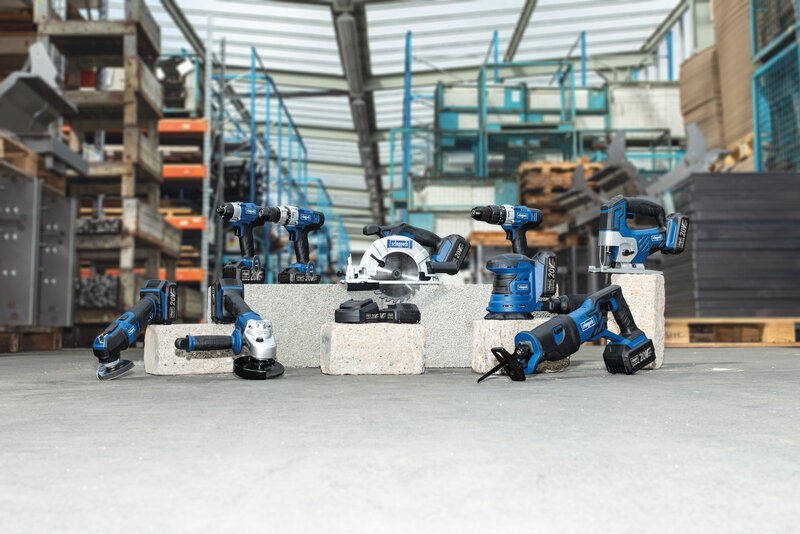 Product range expansion
Introduction of battery-powered devices and electrical tools, which are now a permanent part of the Scheppach range. A wide selection of basic devices that shouldn't be missing from any workshop.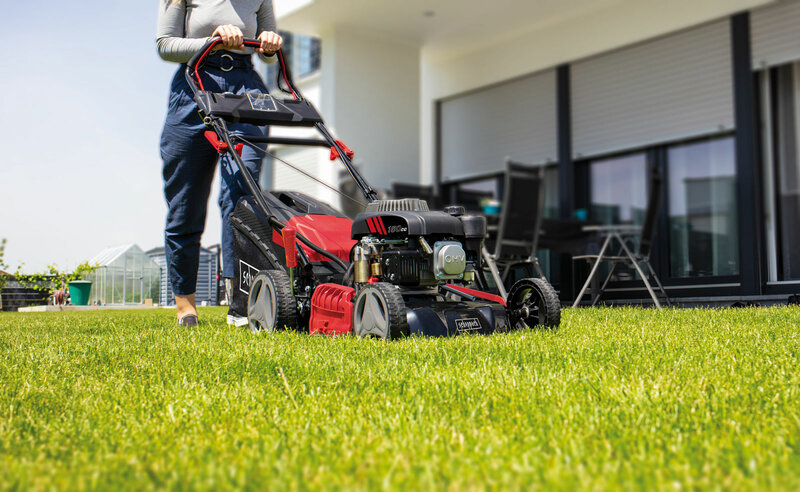 Introduction of the gardening series
Since 2014, the range of gardening tools for amateur gardeners has grown continuously to become a permanent part of Scheppach's portfolio. With an attractive black and red colour scheme, our gardening tools stand out from the workshop range. Besides lawnmowers for every garden size, our assortment also includes tools for hedge and tree care, as well as various multi-tools. Customers also have the choice between gas, electric, and battery power in this area.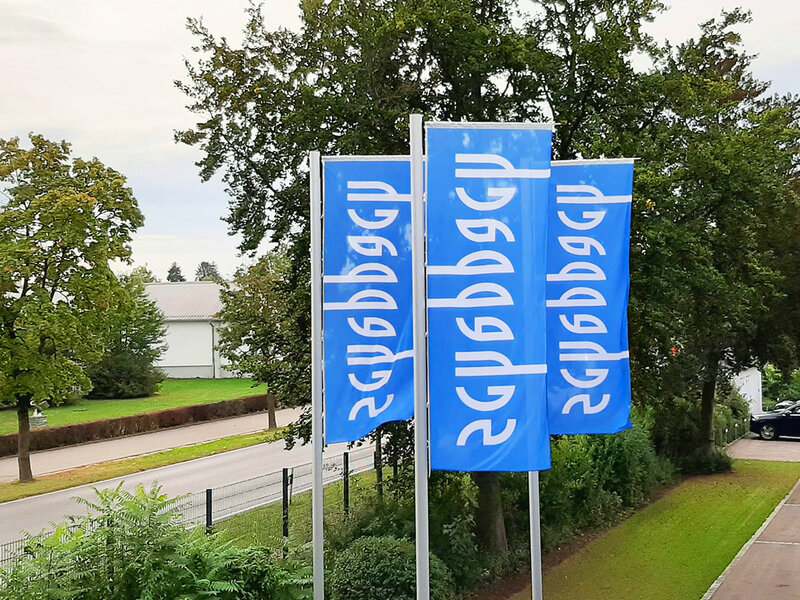 International expansion
Founding of scheppach SARL, a subsidiary in France and founding of scheppach Pty. Ltd., a subsidiary Australia. An important step on the way to becoming a global player.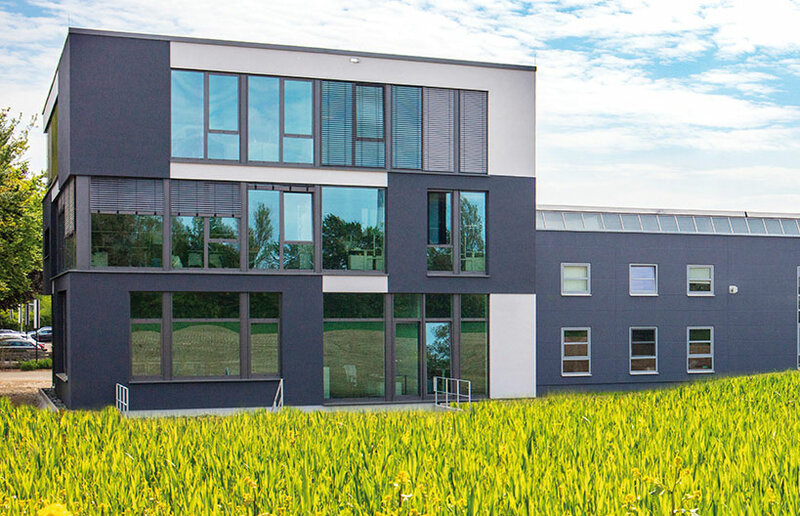 Expansion of the Ichenhausen location
90 years of Scheppach Anniversary and occupation of a new administrative building in Ichenhausen with approx. 1,000 m² of new office space for further growth and additional staff.
With a comprehensive investment program, Scheppach is focused on new, innovative products and efficient processes and structures.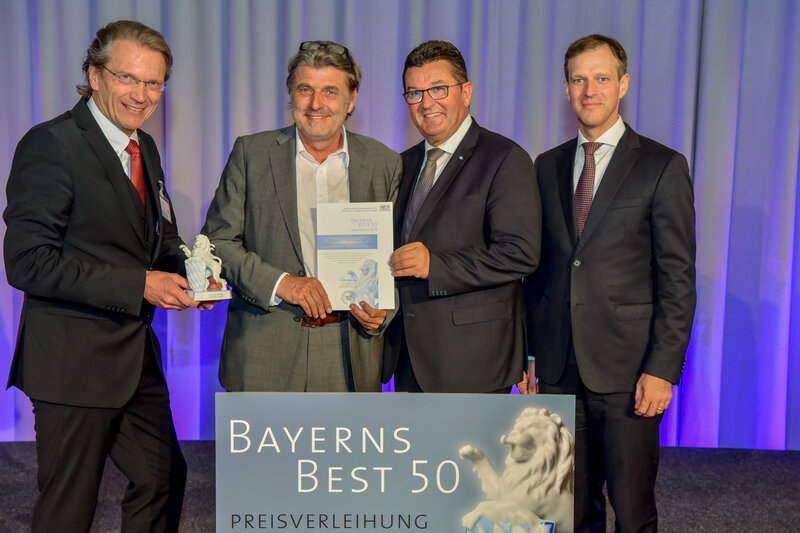 scheppach wins an award
In 2018, Scheppach received the Bavaria's Best 50 award, and is therefore considered one of the 50 best companies in Bavaria in this year!
The company's managing directors, Mr. Müller (1st from left) and Mr. Pfaff (2nd from left), were pleased and proud to receive this award on 23/07/2018 at Schleissheim Palace from Bavaria's Minister of Commerce, Franz Josef Pschierer.
Read more about in this news article.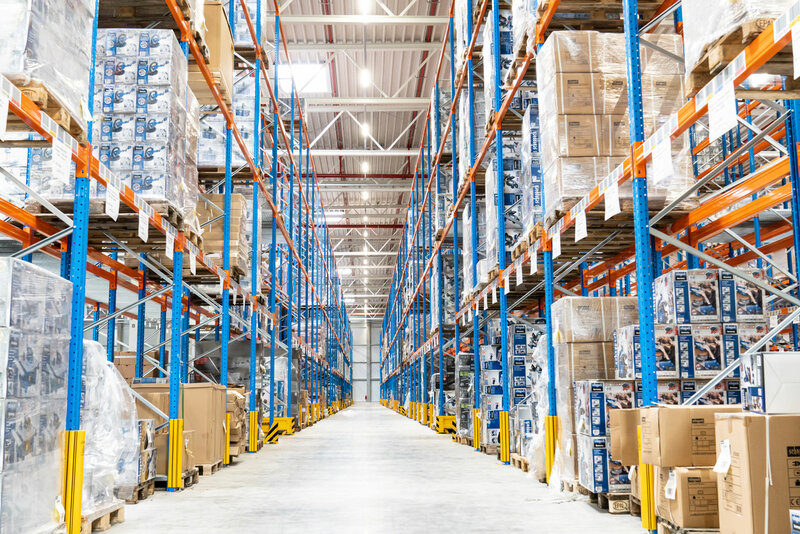 Günzburg logistics centre
In 2018, construction began on our new, central logistics centre in Günzburg. In 2020, we were able to occupy the 21,000 m² large hall. Another step in our increased growth, helping establish scheppach one of the most modern trading companies in this sector.
Erection of the new logistics hall represents the greatest individual investment in the 90-year history of the company and simultaneously represents the change at the scheppach Group from a purely production-oriented company to a sales and service-oriented trading company.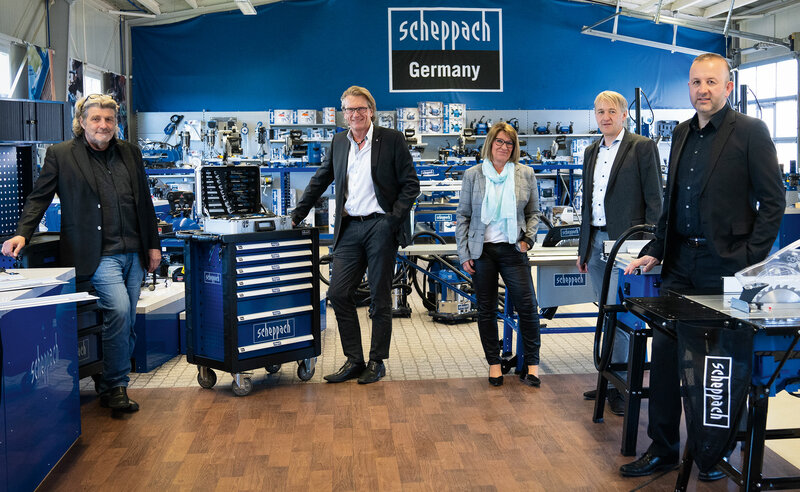 Record turnover and management expansion
Even during the global pandemic, the company managed to continue both its development and a significant growth in turnover. For future tasks and challenges, as of 1st of April, another Managing Director and a second Authorised Representative were added to the current management, previously consisting of the owner Ernst Pfaff, Stephan W. Müller, Managing Director, and Inge Hofmann, Authorised Representative.
Strengthened in this way, the reformed management of the Scheppach Group will tackle new projects and keep the company on its path of success.
The new management of Scheppach: (from left to right) Ernst Pfaff (Owner), Stephan W. Müller (Managing Director), Inge Hofmann (Extended Board Member), Wolfgang Schedel (Extended Board Member), Serdar Eraslan (Managing Director)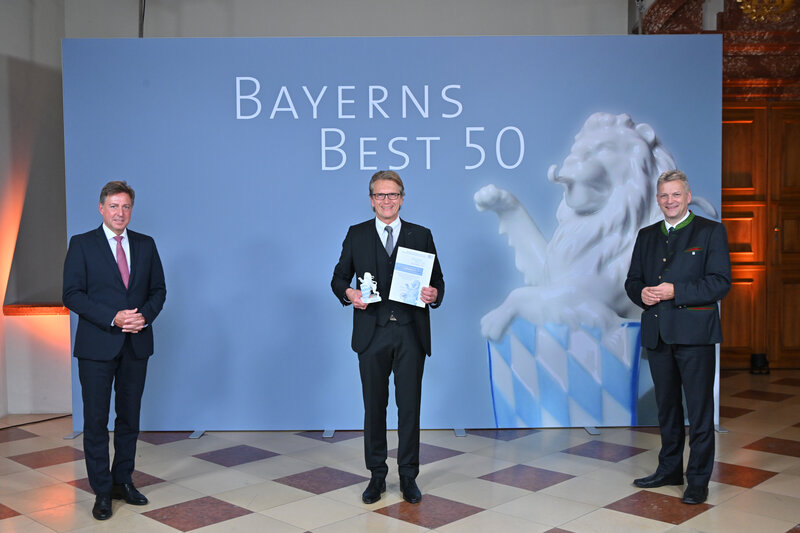 Bavaria's Best 50
Scheppach is a production and commercial enterprise that, with above-average growth, has developed into a reputable, globally active supplier with a comprehensive portfolio of machines, equipment and tools for use at home, in the yard, garden and workshop as well as in construction, agriculture and forestry. Built on more than 90 years of tradition, with the courage for innovation and much passion, Scheppach has been able to forge new paths and write another chapter in its success story over the past 20 years. During the coronavirus pandemic, too, Scheppach stood out with growth and future viability, for which it received the distinction: Bavaria's Best 50. On 4th October 2021, Managing Director Stephan W. Müller accepted the award full of pride and excitement from Roland Weigert, Secretary of State, at Munich Residence.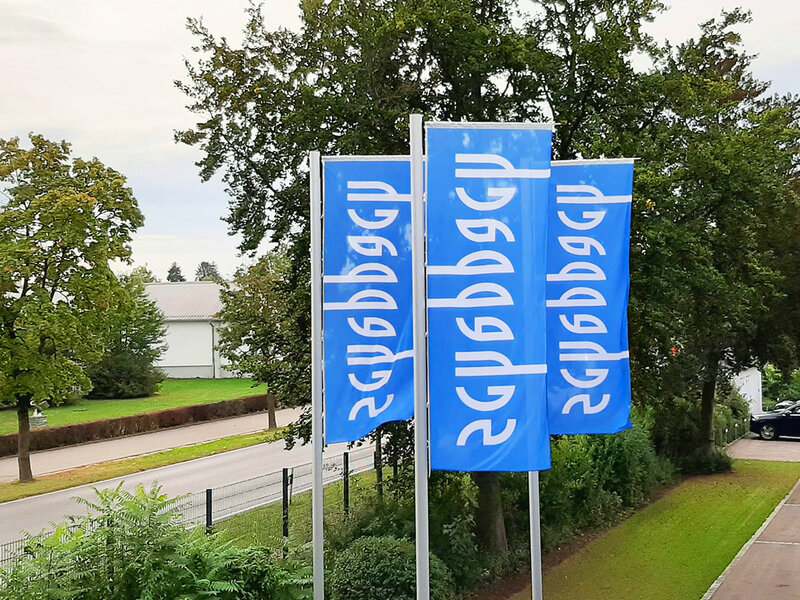 Scheppach GmbH
Our company "Scheppach – Fabrikation von Holzbearbeitungsmaschinen GmbH" has greatly developed and changed over the past few years.
Since 2005 an expansion of our sales channels from specialist retail trade to DIY stores took place, which, since 2010, has also successively reached discounters and e-commerce. At the same time, our portfolio grew with many additional segments beyond woodworking machines, such as compressors, generators, gardening tools, construction machinery and much more.
Since October 2021, "Scheppach – Fabrikation von Holzbearbeitungsmaschinen GmbH" has thus been known as "Scheppach GmbH".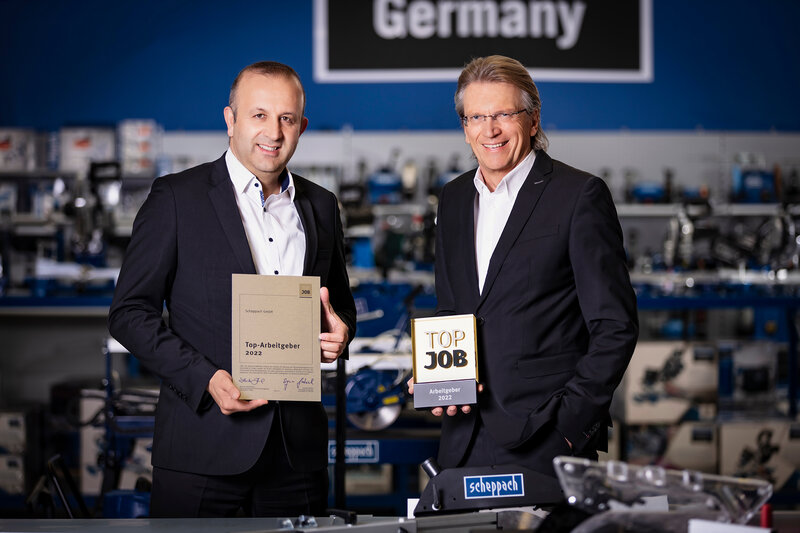 Scheppach receives Top Job Award 2022
Every year, the Centre for Employer Attractiveness (zeag GmbH) honours the most attractive employers in Germany's mid-sized sector. 2022, Scheppach GmbH is among those receiving the coveted Top Job Award. This makes scheppach one of the best employers in Germany. Scheppach stood out with particularly favourable employee feedback in the areas of family-friendliness and demography. The Top Job Seal 2022 was awarded by former Vice Chancellor Sigmar Gabriel as the patron of the prestigious prize.
Scheppach attaches particular value to a long-term relationship with its employees. "We have our committed and motivated employees to thank for the company's success. They do amazing work and managed to cope exceptionally well with the challenges of the pandemic," Managing Director Stephan W. Müller says, full of praise.