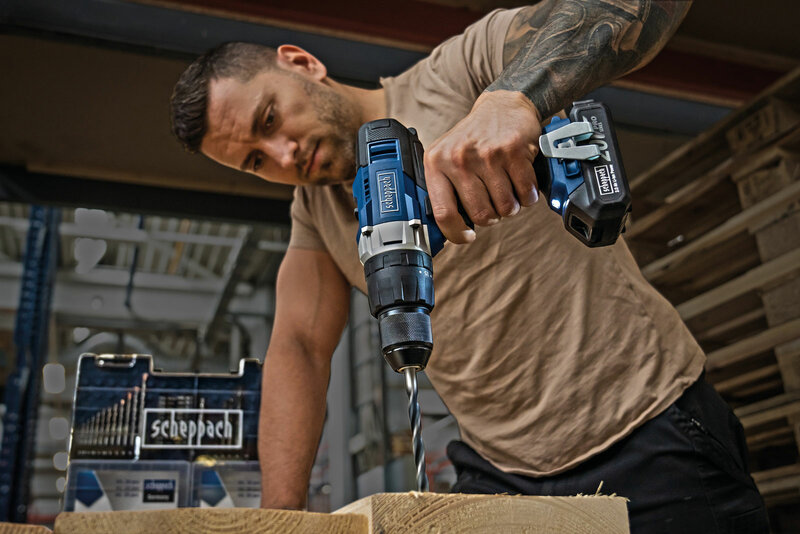 Convenient without a cable
Powerful, handy and unattached – this is how Scheppach's 20 Volt battery-powered tools are characterised. Now you can drill, screw, saw and sand, all without depending on a power source because these units have flexible and versatile uses. This type of all-round system with easy handling is a good choice for practical use – also for sophisticated DIY experts or professionals.
Using the same battery system for a cordless drill, impact drill, impact wrench, impact hammer drill, hand-held circular saw, jigsaw, reciprocating saw, lamp, angle grinder, rotary sander and a multi-tool for sawing, sanding and scraping, scheppach tools are practical items for versatile projects, renovation work and to give free rein to your creativity.
If the battery power is used up during extended work processes, the quick battery charger and a second 20 Volt battery ensure that you can simply continue your work without having to take a forced break. Our tools have been designed for demanding use in terms of features and workmanship and all offer good to very good performance, which has been confirmed by various tests in "Heimwerker Praxis", for example.
The jigsaw CJS254-20ProS is a practical battery-driven tool for precision work. Thanks to the blade stroke of 25.4 mm, you can saw wood and plastics up to a depth of 50 mm, and metal up to a depth of 6 mm. By adjusting the cutting angle, you can also make mitre cuts up to 45°.
This cordless circular saw is ideal for sawing wood, beams and boards. The Ø 165 mm blade allows for a depth of cut up to 55 mm or 35 mm by setting the 45° mitre cut.
This cordless drill is the perfect tool for work in your house or in the garage. It features a max. torque of 150 Nm and an impact force of 3000 bpm to tackle heavyduty tasks. The drill has been designed for market-based ¼" shank bits.
Our
customers'
favourites