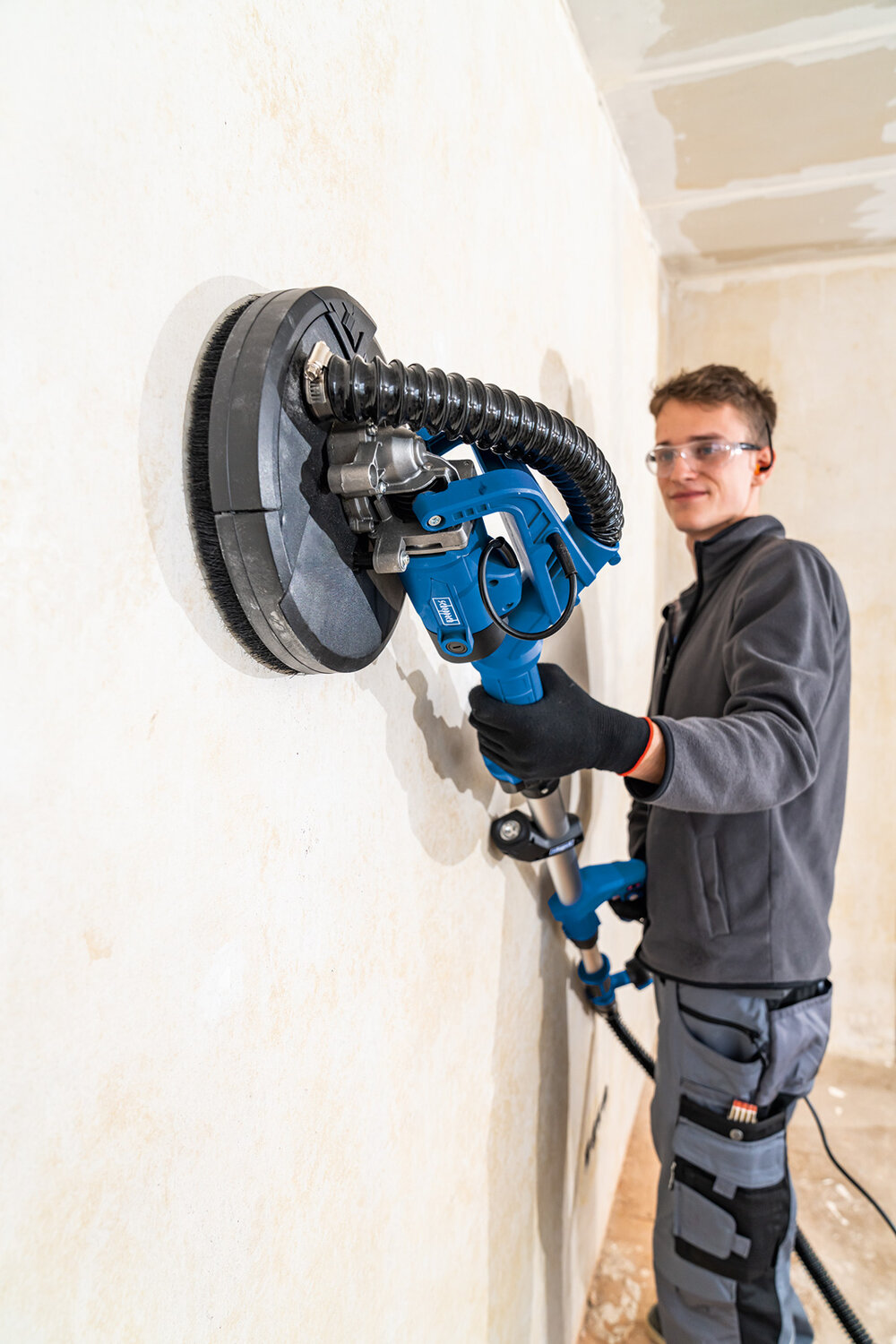 Sanding ceilings made easy with the scheppach DS920X
scheppach's 710 Watt DS920X wall and ceiling sander reliably removes leftover paint, adhesive, plaster, wallpaper and putty from ceilings, sloping roofs and walls or roughens varnishes for re-painting. As a special drywall sander that is often used over-head, the DS920X has been designed to be particularly compact and lightweight. At roughly 5 kg net weight, the ceiling sander is light enough to be used over extended periods. There are also several ways of holding it to prevent fatigue in the arms. The telescopic pole can be adjusted from 145 to 170 cm to match the position of the ceiling sander precisely in relation to the ceiling height and the user's height.
The DS920X is equipped with a circular, adaptable sanding head that adjusts according to demand and surface. The sanding head measuring 225 mm, to which the sanding paper is fixed using Velcro fastening, is perfect for sanding extensive areas. Delivery includes 6 pieces of sanding paper with different grain sizes. Depending on the surface and application, the speed or the oscillation rate of the sander can be adjusted from 800 to 1800 RPM. The following applies: a low oscillation rate for rough work, a high oscillation rate for precision work. The speed is set in advance using rotary controls. For continuous use, the on switch can be conveniently locked. An LED light will illuminate the work area.
Thanks to the 4 metre extraction hose, the integrated extraction device and a suitable vacuum cleaner, the work area can be largely kept clean. Delivery includes two adapters.