Table of contents

Step 1 – Splitting the trunk
Step 2 – Removing bark
Step 3 – Aligning the bottom
Step 4 – Capping the ends
Step 5 – Sanding
Step 6 – Drilling the hole for the bulb holder
Step 7 – Oiling and inserting the bulb holder

List of materials

Tree trunk, approximately 25 cm long
Light fitting with cable and bulb

Tools & machines

Log splitter / axe / froe
Hammer and chisel
Jointer (here HMS1070)
Band saw (here HBS261)
Belt sander (BTS900)
Forstner drill bit
Step 1 – Splitting the trunk
Step 2 – Removing bark
Step 3 – Aligning the bottom
Step 4 – Capping the ends
Step 5 – Sanding
Step 6 – Drilling the hole for the bulb holder
Step 7 – Oiling and inserting the bulb holder
Step 1 – Splitting the trunk
One piece of the tree trunk was split once down the middle. The length of both halves is around 25 cm. You can see that the surface of the split side is quite uneven.
Step 2 – Removing bark
I use a hammer and chisel to remove the bar from one of the 2 tree trunks.
Step 3 – Aligning the bottom
The split surface is guided over the jointer (the HMS1070 here) until a flat surface exists. This surface later becomes the bottom of the lamp.
Step 4 – Capping the ends
I use the band saw (the HBS261) to cut the two ends of the piece of wood so that I can obtain a smooth and nice edge. Thanks to the guide rail on the band saw, it is easy to remove just a small piece of the wood.
Step 5 – Sanding
I then use the BTS900 belt sander to sand and round all corners and edges once again. I also remove the remaining bark.
Step 6 – Drilling the hole for the bulb holder
I now use the Forstner drill bit to drill holes for the bulb holder and the cables in the trunk. Pay attention to the size of the selected bulb holder here.
Step 7 – Oiling and inserting the bulb holder
Use a high quality hard wax oil to protect the wooden lamp perfectly. Insert and attach the bulb holder after drying.
scheppach
Ponceuse à courroie et à disque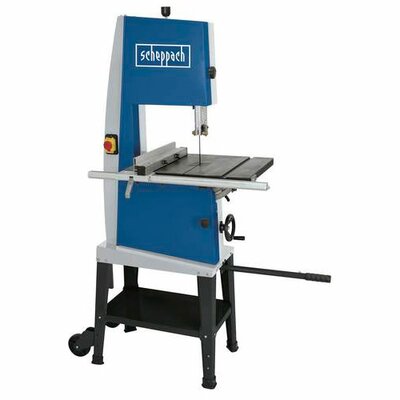 scheppach
Bandsaw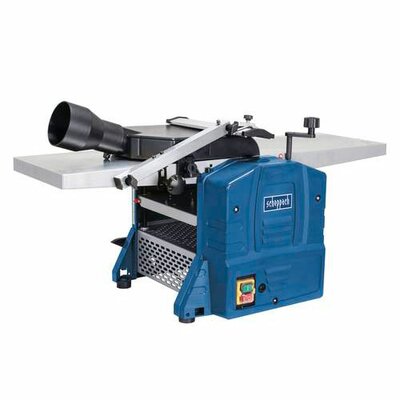 scheppach
Planer / Thicknesser