Table of contents

Preparation
Step 1 – Transferring the template
Step 2 – Sawing
Step 3 – Sawing the supporting boards
Step 4 – Sanding
Step 5 – Painting

Materials list

approx. 1 m2 Multiplex 15 mm
Paint, child-safe
Figures (make yourself or buy)
Printed out template

Tools & machines

Drill and countersink
Circular table saw, jigsaw
Cordless screwdriver
Router, rounding cutter
Sandpaper, sander
Clamps
Painting accessories

Protective gear

Safety goggles
Gloves
Work clothing
Hearing protection
Preparation
Step 1 – Transferring the template
Step 2 – Sawing
Step 3 – Sawing the supporting boards
Step 4 – Sanding
Step 5 – Painting
Preparation
First think about how big your activity arch should be. In my case, the following dimensions turned out to be ideal and child-safe:
Height 650 mm
Width 880 mm
Depth 400 mm
Step 1 – Transferring the template
The very first thing to do is to take our template and to transfer it to the multiplex plate. Small tip: many advertising agencies will print the template cheaply. Alternatively, a copy shop will also generally do this.
Step 2 – Sawing
After everything has been transferred over, we can try to saw everything as accurately as possible. My choice here was the jigsaw and it worked really well. Patience and precision really pay off here, as the better we are here, the less sanding work we have to do. We recommend clamping the plate tight, as this makes sawing much easier.
Step 3 – Sawing the supporting boards
We can use the circular table saw to saw the support boards. These are 400 x 80 x 15 mm. The activity arch is set up using a push-fit fitting. You can therefore clear it away and transport it really easily. The push-fit fitting is 40 mm deep, both in the support boards and the activity arch. Of course, it's positioned in the middle.
Step 4 – Sanding
Once we have sawn everything to size, we can start sanding. I worked up from 120 to 600. Both manually and automatically. As this is for small children or children in general, there must not be any edges. In this case, a router and the corresponding rounding cutter are ideal. Round everything off once so that the risk of injury goes down to virtually zero. I also drilled the holes and countersunk them at this point. There is space for 5 figures here.
Step 5 – Painting
We can now start to apply the first coat of paint. Ensure that the paint is suitable for toys. I did a total of 3 coats. If you want, you can also use a roller here but I did it with a brush.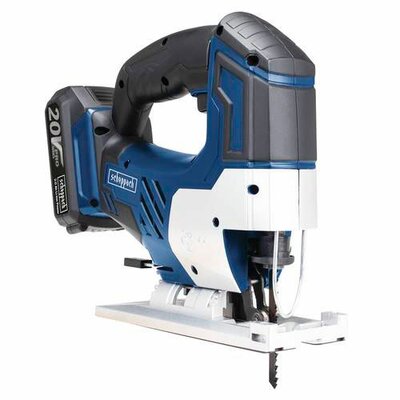 scheppach
jigsaw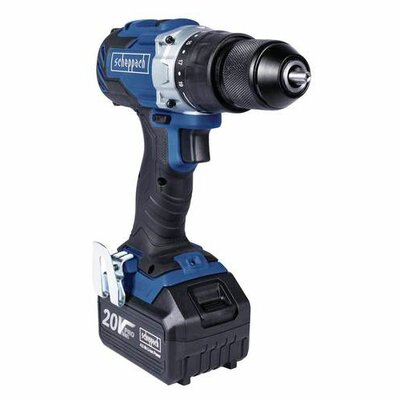 scheppach
Battery screwdriver